PRIVATE CLASSES
What's a "private class"? We'd love to entertain your students at one of our regularly scheduled public CMMI classes; however, sometimes it may be more cost-effective for us to come to your site - especially if you have five or more people to be trained.
Previous locations. We've done this before -- often. Our SEI-Authorized Introduction to CMMI Instructor, Mr. Bill Smith, has taught the course at more than 20 different customer locations throughout the United States. In fact, he has taught Introduction to CMMI to more than 500 students.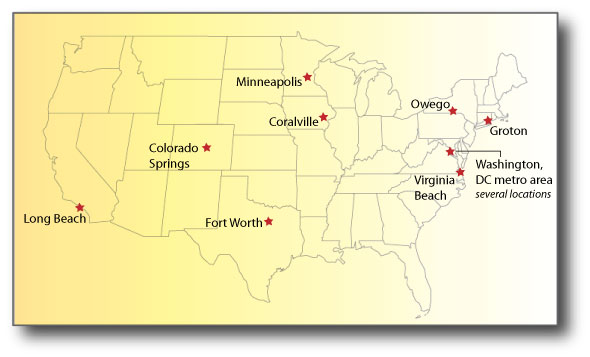 Previous onsite
Introduction to CMMI
locations (Bill Smith, Instructor)
Prior customers. Enormous, tiny, or somewhere in-between: we've taught organizations of all sizes. Mr. Smith has often been invited back to teach the CMMI multiple times at the same company - either at a different site, or to a new pool of people at the original location. Stellar student feedback and off-the-chart class ratings have helped to spread the word.
Here's a partial list of the organizations that have received Mr. Smith's unique style of SEI Introduction to CMMI training at their own facilities:
Cost. The cost of our SEI Introduction to CMMI class depends on the number of students you have, and whether we have to travel to get to you.
SEI Introduction to CMMI Version 1.2
(CMMI-DEV)
SEI Services Supplement for CMMI v1.2
(CMMI-SVC)
$5750
+ $290 per student
$2500
+ $165 per student
$6500
+ $290 per student
+ travel expenses
$3250
+ $165 per student
+ travel expenses
Details. We provide: Approximately three days of stand-up training at your site, delivered from our laptop connected to your projection system. We also provide each student with a bound copy of all SEI slides, as well as the latest edition of the definitive CMMI reference: CMMI: Guidelines for Process Integration and Product Improvement. (We'll also provide a few promotional items and giveaways.) You provide: A quality training facility - including a projector and flipcharts/easels/markers/etc., as well as a "backup" computer. You may also want to consider snacks and beverages, and our customers often provide a continental breakfast for their students.
Comparing us to another vendor? Several organizations provide CMMI training, but few make it a specialty and receive consistently rave reviews. Check out what makes us different.
Book a class today. Try to book your class at least two months in advance -- especially if your dates are highly constrained. This is not just "marketing-speak"... we're serious! Contact us ASAP to discuss getting "penciled in."

Copyright 2009 Leading Edge Process Consultants LLC. All rights reserved.